Craig branch falls
A series of waterfalls ranging in heights from 15ft,25ft, and 40ft.

The Kaymoor Miners Trail​ is one of my favorite go to hikes in the New River area. On the way down to the junction of Kaymoor Trail be sure to stop and take in the small falls on the right side before making the descent into the canyon. At the end of the Kaymoor Miners Trail you will come across the opening for the Kaymoor Mine. A sign that reads 'Your Family Wants You To Work Safely' gives the feel of what it was like for the miners that came to work everyday. Turn right here onto Kaymoor Trail.
Along Kaymoor Trail the days of the coal mine can be visible all around the trail. Abandoned coal cars and old vehicles are left to waste away in the forest of the New River. Around 1 mile the Kaymoor Trail crosses Craig Branch and this begins the series of waterfalls.
A lot has changed within my two visits to the first falls that you see from the trail. There are a few falls on this section of stream all of which have no standard trail. A lot of bushwhacking was involved on my visits.

Directions: From US-19 follow WV-16 south through Fayetteville. Turn left onto Gatewood Rd. Follow GAtewood Rd 2 miles and turn left at the Kaymoor sign. Follow this road about 1 mile to the 'T' intersection and turn left. Back track to the Kaymoor Miners Trail.

Powered by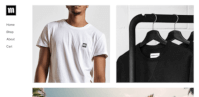 Create your own unique website with customizable templates.